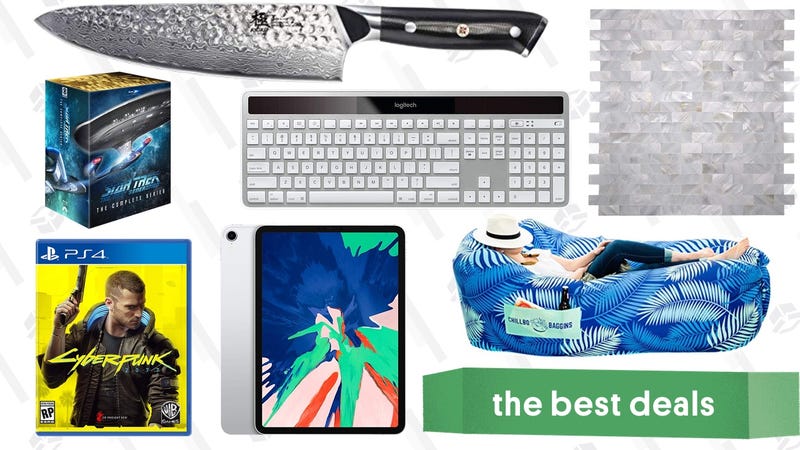 Best Deals of the DayThe best deals from around the web, updated daily.   
An inflatable lounger for your summer outings, a one-day backsplash tile sale, and a preorder discount on next year's most highly anticipated game lead off Saturday's best deals from around the web.
Bookmark Kinja Deals and follow us on Twitter to never miss a deal. Be sure to read our guide on how to prepare for Prime day and bookmark our Prime Day deals hub to be ready for the big day.
12.9″ iPad Pro (64GB-1TB) | $824-$1,529 | Amazon
Whether you require the raw power, advanced screen, and superior camera, and USB-C connectivity of the latest and greatest iPad Pros, or if the standard 9.7 iPad can fulfill your tablet needs, Amazon's offering all of Apple's latest tablets for some of the best prices we've seen.
Advertisement
Depending on capacity and color, the mammoth 12.9″ iPad Pro is available for as low as $824 (an all-time low), and the 11″ Pro is on sale for as low as $699, with larger discounts available on higher capacities.
Don't need the Pro? The standard iPad (which works with Apple Pencil now) is also on sale for $249-$328, depending on the capacity you choose. If you need help deciding which one's right for you, Apple has a handy comparison chart here.
---
What if you never had to charge your wireless keyboard? That's the idea behind the Logitech K750, which uses a strip of solar panels to soak up the light in your office and keep running essentially forever. It's like the calculator you used in school, but a lot bigger.
Advertisement
It normally sells for $50-$60, but Amazon's marked it down to $40 today. It has dropped to $37.50 on a few occasions (mostly Logitech Gold Boxes), but otherwise, this is a great deal.
---
Disney is apparently a consumer electronics company now, and their Circle seems like a must-buy piece of gear for every parent.
Advertisement
Circle syncs with your home Wi-Fi, and lets you set content filters, app-by-app time limits, and a whole lot more on any iOS or Android device. I honestly have no clue how this works (Disney magic, I guess?), but reviews are solid, and today's $24 price is the best we've ever seen.
I've seen a lot of Amazon Gold Boxes over the years, but I'm pretty sure this is the first time I've seen one on backsplash tiles.
Advertisement
Today only, you can choose from several styles from Art3D, most of which are made from gorgeous Mother of Pearl seashells. The Mother of Pearl tiles are thin, reflecting the natural thinness of the shells, but they aren't backsplash stickers; they're real. The resin options however, are thicker.
Most of the packs come with 10 sheets, but some come with fewer, so be sure to double check before you mash that buy button.
---
Whether you're a seasoned backyard pit master, or this will be your first summer as a Smokeboy, ThermoWorks' Smoke is our favorite tool for monitoring the temperature of both your smoker and the delicious meat inside.
Here's what we had to say about the Smoke over on The Inventory:
The core features you should expect from a wireless probe thermometer are all here, but with Thermoworks trademark, Co-Op award-winningquality. The Smoke uses two probes so you can monitor your meat and smoker temp, but unlike similar thermometers, these probes are commercial-grade for better accuracy, higher temperature resistance, faster read speed, and increased durability. The Smoke is also extendable and compatible with the myriad of other Pro-Series ThermoWorks probes. If you don't want to monitor pit temperature (you savage!) you can monitor two meats. Need to monitor two cookers for some reason? Monitor sous-vide water? Oven-roast two Turduckens? Deep fry scotch-eggs? Whatever. The ThermoWorks Smoke doesn't care what you poke its probes into.
The Smoke (which includes a wireless receiver that you can wear around your neck) rarely goes on sale, but it's 20% off for a limited time at ThermoWorks, as long as you're okay choosing the red, white, or blue model. Now go get that grill clean!
---
Find someone who looks at you the way cats look at the PetFusion cat lounger. Normally $50, it very rarely goes on sale, because with 6,000 reviews and an insane 4.8-star rating on Amazon, it probably sells itself. It's made of recycled cardboard, its curved design makes it easier for cats to scratch, and the grooves of the cardboard are perfect for rubbing in some catnip for hours of (your) entertainment.
Advertisement
All three colors are down is down to $42 on Chewy and Amazon today, but these deals never last long, so I'd go ahead and pounce on it while you can. 
---
If you're traveling abroad with an entire family, you probably shouldn't trust your children to keep track of their own passports. Instead, grab this water resistant, zip-up wallet for $17 after clipping the $2 coupon and using promo code UP4NKWGI. It has space for six passports, plus a bunch of cards, so you can keep everything in one place. Just don't lose it.
Advertisement
It even includes some RFID-blocking sleeves and a micro travel pen for documents, as an added bonus.
---
Update: Both of these codes are working now, if you were having trouble earlier in the week.
Advertisement
You might not have heard of Kyoku, but we found their Daimyo damascus steel chef's knife to be a joy to use, and spellbindingly beautiful to look at too.
Now, they're offering our readers and exclusive deal: use promo code KYOKUCXU at checkout to slice $20 off the price of the 8″ chef's knife that we tested, or code KYOKUSN2 to save on a 7″ Santoku version, which is more maneuverable when rocking back and forth to chop vegetables.
---
At $123, Walmart's Ozark Trail 52 quart high performance cooler is only a fraction of the cost of a comparable YETI, but it can keep ice frozen for over five days (as evidenced by this video), and even comes with a removable shelf insert, so why pay more?
---
I present, for your consideration, these magnetic hooks. They hold 80 pounds if they're stuck to something upside down, or 25 pounds if they're on a vertical wall. They cost $12 for a 6-pack.
Advertisement
I don't really know what else to say about them. Hooks! Magnets! It's all good stuff, and the price is great too.
---
This six-accessory kit from Cosori is marketed towards air fryers, but all of this stuff would work will in an Instant Pot as well. Make egg bites, steam veggies, make kebabs, cook a pizza, and more.
---
AmazonBasics now makes shower heads and faucets, apparently? It's only a matter of time until you can get an AmazonBasics house dropped onto the land of your choice. Anyway, a bunch of them are on sale right now, and they actually look quite nice.
---
If your Soylent supplies are running low, the company just kicked off its summer sale. Add any three cases of the drinks, powder, or Squared bars to your cart, use promo code SUMMERDAY at checkout, and you'll get one of them for free. Cheers to that.
Sweat Block is antiperspirant, but in lotion form, so you can use it on your hands and feet, instead of your armpits. Our own Jolie Kerr suggests using it on your feet, but feel free to let your mind wander about the possibilities. Get a tube for $13 on Amazon today, down from the usual $15.
---
By now, you know that hyaluronic acid is a magical skincare supplement that helps your skin maintain its natural moisture. What you might not know is that you can get stuff with hyaluronic acid for this cheap. Today on Amazon, Pure Biology's premium neck cream and eye cream are both on sale for $26.
---
Whether you're getting in shape or just working out some aggression after reading our president's latest tweets, this Everlast Core Bag is down to an all-time low $76 today.
---
You don't need to be a professional stylist or an Instagram influencer with multiple beauty sponsorships to have one of those fancy makeup mirrors with the built-in lights and multiple magnification levels. You just need twenty dollars and a place to put it.
---
I know they look silly, but those inflatable couches offer an incredible comfort-to-weight/storage space ration when it comes to outdoor seating for summer concerts, outdoor movie screenings, and picnics, and Chillbo Shwaggins are some of the most popular and well reviewed loungers on the market.
For a limited time, several designs are marked down to $40 from the usual $45, and an extra 10% coupon makes the even cheaper.
---
Fourth of July is still a few weeks away, but REI is already popping the sale fireworks with discounts on all of your favorite outdoor gear.
Advertisement
The biggest discounts are generally going to be on REI's own products, including the Passage 2 backpacking tent and the REI Camp Roll table, in addition to a ton of apparel.
Some great options elsewhere in the sale include Patagonia's famous Black Hole duffels, reader-favorite Hydro Flask drinkware, and summer-ready swimwear from a variety of great brands.
If you have affinity for certain outdoor brands, you can also just head to REI's All Sales page, and sort by your favorite brands.
---
Does your skin turn a nice tomato red after only five minutes of sun exposure? You better stock up on some sunscreen now before you're assaulted by UV rays all summer long. Thankfully, a cult-favorite Japanese sunscreen is currently on sale.
Advertisement
You can get an extra large bottle (1.7x the normal size) of Biore UV Watery Essence for $15 on Amazon right now, or a regular sized bottle for $9. The larger bottle is a slightly better price per ounce, but they're both solid deals compared to their normal price points. The 50 SPF sunscreen is pretty literal to its name and is said to feel like water when applied to your skin.
Here's what Shep McAllister had to say about it on The Inventory:
As far as sunscreen goes, the only thing I really knew about it was that I didn't like it, and given the option, I would usually just opt to stay indoors until the UV index fell to around 3 or 4, or until someone invented a sunscreen pill, whichever came first.

That all changed when my wife introduced me to Biore Watery Essence sunscreen. It's SPF 50 (the bare minimum for my needs, thank you very much), waterproof for 80 minutes, and feels like rubbing water on your skin. Cool to the touch, it rubs in effortlessly, and doesn't come with the unpleasant smell or zincy stickiness of pretty much every other sunscreen I've used. About two minutes after putting it on, I've usually completely forgotten about it, which is a compliment of the highest order.
---
If you want to keep track of your summer weight loss goals, the new model of Anker's ultra-popular Bluetooth smart scale is on sale today for just $20 right now with promo code EUFYSLC1, the best price we've ever seen on a smart scale from a major brand.
In addition to functioning as a normal digital bathroom scale, the Eufy BodySense can measure metrics such as body fat percentage and body water, and sync all of that data over Bluetooth to your iOS or Android smartphone, and send it to those platforms' Google Health and Apple HealthKit apps. You can see my impressions of the previous model here, but it's the most seamless and reliable smart scale I've ever personally used.
---
Things are only impossible until they are not, and for the longest time, getting the complete Star Trek: TNG Blu-ray for under $100 seemed all but impossible. Today on Amazon though, it's marked down to $92 (or $91 if you choose no-rush shipping), and if you're a Trekker, you know that resistance to this deal is futile.
---
Jeff Bezos owns the Washington Post, which means that Amazon can do stuff like give away an eight week digital trial for free. Just note that this offer is only available today, and it'll auto-renew at $5 per month.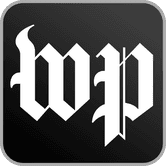 Cyberpunk 2077, a game featuring Keanu Reeves from the folks that brought you The Witcher (which is as sure a recipe for success as anything in the gaming industry), isn't out until next year, but you can save $10 by preordering your copy right now.

That deal is valid on both the PS4 and Xbox One versions of the game, you won't be charged until it ships, and if it happens to get any cheaper between now and release day, you'll automatically be charged the lowest price.
---
Hori's D-Pad Switch controller isn't without its compromises—notably, it only works in handheld mode, and the fact that it drains your Switch's battery while it's asleep—but for some games, there's simply no substitute for a good D-pad.
It's been priced at $25 since it came out last year, but today, Amazon's marked both the Zelda and Mario-themed controllers down to $20.
---
Cornhole is our readers' favorite lawn game, and with good reason: everyone knows how to play it, it rewards skill while still being inviting to newcomers, and you can play it with one hand while you hold a drink in another.
This set from GoSports isn't regulation sized, but it's big enough for a casual game. But the most noteworthy feature is the light-up ring, which can run for over 24 hours off of three AA batteries. Cornhole was never a nighttime activity, but now, you can go best out of three, five, seven…however long it takes for you to win, even if the sun goes down.
Tech
Home
Lifestyle
Media
Gaming
Deals You May Have Missed
Anker's new SoundCore Arcs are, by my count, the company's 47,000th iteration on wireless headphones in the last three years, and they appear to be one of the best sets yet for working out.
Advertisement
IPX5 water resistance is great for warding off sweat, the earhooks keep them firmly anchored in your ears while you run, and the oversized 10mm drivers should produce great sound quality. The standout feature here though is the 10 hour battery, which is about as good as it gets at this size and price point.
Even if you already have a set of Bluetooth headphones that you like, it's never a bad idea to grab a spare for your gym bag or luggage, just in case you forget your daily drivers. You can save $15 today with promo code SDCARC3261.
---
This Apple Smart keyboard is advertised as being made for the 10.5″ iPad Pro, which of course, is no longer being made. But it also works perfectly with the brand new 10.5″ iPad Air, if you picked that up in lieu of the 11″ Pro.
On the one hand, $80 is a lot to spend on an iPad keyboard, even one that uses Apple's Smart Connector and doubles as a case. On the other, that's half what it cost when it first came out, and it's very well regarded.
---
While we often like to say that one cannot have too much storage, the Seagate IronWolf 12TB Drive may be too much… for most people. But for anyone with a ton of data or an empty slot in their NAS, this 12TB is currently $60 off its normal price and a solid bargain.
Advertisement
This Seagate drive offers speedy performance and is designed to run 24/7, perfect to store all of the data in your life.
---
Anker's PowerLine and PowerLine+ cables were already our readers' favorite charging cables, but the PowerLine II line is even stronger, and comes with a hassle-free lifetime warranty.
Advertisement
Think about that for a second. If your cable ever fails, instead of going out and buying a new one, you can just request a free replacement. Obviously, cable standards will become obsolete over time, Anker might not be in business by the time the sun explodes, and they probably won't replace it if you, like, purposely set it on fire. But under normal circumstances, this could really be the last charging cable you buy.
That being said, your PowerLine II probably isn't breaking any time soon. Anker claims it's 40% stronger than the previous model, and it definitely feels heavy duty in the hand. The plugs are thicker and have longer collars than the previous version, and the cable itself is pretty thick and stiff compared to what you might be used to. It's not the prettiest cable, but it's clearly built to last.
The 6′ cable is marked down to $9.74 today with promo code ANKERPL6, or you can get a 10′ version for $10.49 with code ANKERPL10. In both cases, you can choose whatever color you'd like.
---
We've seen a few deals on Apple's latest AirPods without the optional wireless charging case, but today's the first time Amazon's discounted the new models with the Qi case.
In terms of size, fit, and fidgetability, these are the same AirPods that you know and begrudgingly love, but with an upgraded chip that provides Bluetooth 5.0, faster switching between devices, hands-free "Hey Siri" support, and longer battery life when talking on the phone. $180 is a $20 discount, and the best price we've seen.
---
It isn't summer until you're sitting outside, kindling a fire and telling stories with your loved ones. The only thing that makes sitting around a fire even better is making some s'mores. Right now, you can get a Mainstays 28″ Fire Pit for $30 at Walmart. If you love s'mores, you can also order marshmallows, chocolate, and graham crackers from Walmart as well.
---
Finding cleaning products that use natural ingredients, that actually clean up grime while smelling good is often tough. Thankfully, Mrs. Meyer's is a cruelty-free, plant-derived cleaner that can be budget-friendly. Right now, you can get a three-pack of Mrs. Meyer's Clean Day Multi-Surface Cleaner in Lemon Verbena and Lavender for only $8 each.
---
I've been using stainless steel straws for months at home and at work, and I love them except for the fact that mine don't have silicone tips (which forced me realize how haphazard my drinking style is.) This 5-piece set from Klean Kanteen does, and is only $7 today.
Advertisement
In addition to the tips, you'll also get a cleaning brush which is standard for straws like this. This price is the lowest we've seen, so pick 'em up before this deal goes away.
---
Prepare for your next backpacking trip by picking up this $15 Thermos food canister. Currently at its lowest price ever, this particular vacuum insulated Thermos usually sells for around $20-$24. It'll keep your food hot for 7 hours and cold for 9 hours, and it comes with a foldable spoon that's stored under the lid.
---
You will always need hand soap. The worst time to run out of soap is when your entire household seems to have caught a cold. Never run out of soap again when you buy a six-pack of Method Gel Hand Soap, Sweet Water for $12 on Amazon. The Method soap has a nice, soft scent that isn't too overpowering after washing your hands.
---
New on-sale summer styles await at Original Penguin. Right now, take an extra 80% off a selection of apparel, including cool button-downs, polos, and tees, with promo code OP20. Just snag your clothes ASAP, since this sale won't last long.
---
Lucky you: Today, you can get stock up on a slew of bohemian-cool clothes that also happen to be marked down significantly. Lucky Brand is taking 60% off sale styles for men, women, plus, and kids, meaning you can fill your closet with shirts, tees, jackets, pants, and beyond that make you feel like you just found a four-leaf clover. Don't press your luck; stock up on apparel before this sale's lucky streak is over.
---
Ah, slides: The most convenient of all footwear. And in case you hadn't heard, they're actually trendy this summer. Now, you can get in on this fashion statement for lazy people with 50% off a selection of slides from Adidas. The Cloudfoam style is certainly a classic, or pick up a pair of equally respectable Comfort Slides. Just use promo code SLIDES50 to slide into this discount at checkout.
---
Buying a suit off the rack is almost always a disappointing experience. It never fits quite right, the selection is limited, and it always feels like you're spending way too much for a garment that you don't really love.
Indochino addresses all of these shortcomings with custom tailored suits (and more!) that are cut to fit your specific body, and that allow you to tweak all of the little details and accoutrements to your liking. So today, head over there and design totally unique suit that's built just for you for just $299 with promo code KINJA19.
Advertisement
That code will work on any of the suits on this page, and includes all of your customizations and shipping. If you get it and it doesn't fit quite right, you can even go into an Indochino store to get it adjusted or remade for free, or even get reimbursed after taking it to another local tailor if you don't have an Indochino store near you.
Just about the only thing it doesn't include is a shirt to wear underneath, and they've got you covered there too with a $59 shirt of your choice with promo code KINJA19. And just because it's "just a shirt" doesn't mean you don't get a ton of customizations here too. You can configure it with six different collars, multiple lengths (say, if you want to wear it untucked), short sleeved or long sleeved, and more.
---
Converse kicks are eternal classics, and right now, you can lace up a brand new pair for way less than usual. A few dozen high-tops and low-tops in various colors are up for grabs for just $25 with promo code AMERICA. Grab a pair for you and everyone you know before this deal walks away.
---
Look around, look around at this deal on the Hamilton Original Broadway Cast Recording—on classic vinyl, no less, just as the $10 founding father without a father (and Lin Manuel Miranda) would have wanted. The album will set you back just $45, the lowest price we've ever seen, and it comes with a digital download. The Former Secretary of the Treasury would approve, and the world will never be the same.
---
Whether you're looking to start the next big podcast, improve the quality of your Twitch streams, or just want your Skype calls with Grandma to sound better, this Razer Seiren X USB Streaming Microphone can help. It's $30 less than its usual price on Amazon and one of the most attractive microphones currently on the market.
---
Bowflex's 3.1 adjustable weight bench locks into four different positions, and boasts a 4.3 star review average from nearly 1,800 Amazon customers. If you'r still working on your summer swimsuit body, $99 is the best price we've ever seen on the thing, and yes, it ships for free.
---
There are many things I don't know in this life, but here's one thing I'm sure of: I can never own enough BAGGU bags. Now, you too can experience the joy of BAGGU for a lot less than usual thanks to their annual Online Sample Sale, happing now.
Advertisement
A ton of the bag brand's coveted classics are marked down by up to 60%, with a bunch of backpacks, totes, and wallets priced as low as $20 or less. I can personally vouch for this $20 grid-patterned Duck Bag, the $86 Drawstring Purse in either black or brown (I have both colors! It's that good!), the $70 Cross Body Purse, and this 3D Zip Set of nylon pouches, not to mention, this smaller version of my beloved Standard BAGGU nylon sack. As for me, I'll probably pick up a new backpack or tote, because I feel like I'm legally obligated to take advantage of these amazing prices (I'm not, but you get it). No matter which BAGGU you choose from this grab bag of deals, rest assured that you're bagging something great.
---
Buying stamps IRL is weird. Either you have to stand in line at the post office for hours, or you have to go to a pharmacy or whatever and speak to an actual human (the horror!) to get them from their hiding place behind the counter. So let's all collectively agree to buy stamps on Amazon from now on—emphasis on the "now," because you can get this book of 40 Forever Stamps for just $22 today when you clip the 10% off coupon. So take this deal to your mailbox, and send it.
Advertisement
To be clear, Forever Stamps are currently priced at $.55, so you aren't really saving any money compared to buying them at the post office; you're just getting the added convenience of ordering online with Prime shipping.
---
It's normal to want a little privacy in your home, but why does that have to mean languishing in darkness with all shades drawn? Stop punishing yourself for wanting to deter neighbors' prying eyes, and load up on these adhesive window films for $6 with promo code 30BESTFILM.
Advertisement
The peel-and-stick sheets are easy to install and won't leave behind a sticky residue when its time to take them down. They also block out 96% of UV rays while still allowing natural light to filter through. Plus, that 3-D tiled design is downright pleasant! So get some for your windows before the curtain goes down on this deal.
---
A chimney starter is the fastest way to get your charcoal hot enough to grill with, and Weber's top-selling model is on sale for $17 right now, just in time for your Fourth of July barbecue.
We've seen it drop to $15 on a few brief occasions over the past year, but otherwise, $17 is about as cheap as it gets. Just stuff some newspaper in the bottom, add your charcoal, light the paper on fire, wait until the coals turn gray, then turn the whole thing over (carefully for pete's sake!) with the heat-shielded handles and pour the piping hot charcoal into your grill.
Advertisement
Oh, and invite me over to help eat whatever you're cooking, that's the final step.
---
Just when you thought you had car chargers pegged, Anker went out and made the smartest one you've ever seen.
Advertisement
Similar to the Nonda Zus, the Roav by Anker SmartCharge Halo connects to your phone over Bluetooth while you drive. When you turn the car off and the Bluetooth connection breaks, the Roav app will mark down your parking location on a map, so you can find your way back.
Perhaps more usefully, every time you start your car, the SmartCharge will also log the health of your car battery, so you can track its charge over time from your phone, and get a replacement ready before you get stranded in your office parking garage on a Friday evening.
Advertisement
Those features alone (along with three total ports, including a Quick Charge 3.0 one) would make this worth $14 (with promo code ROAVF3WA), but it does have one last trick up its sleeve: A customizable accent light. The LED ring around the USB ports can display 16,000 different colors, and you can choose your favorite from the app to make it perfectly match (or stand out from) your car's own dashboard lighting.
In a very short amount of time, Anker's first foray into the dash cam market has spawned an entire line of products, and one of the company's top-selling dash cams just got one of its best discounts ever.
The Roav DashCam A1 is mostly a spec-for-spec match for the original C1, though it operates in a slightly wider temperature range, and is designed more like a traditional action cam than a purpose-built dash cam. That makes it a little less sleek on your windshield, but allows you to tilt it left and right, rather than just up and down. It's really a matter of personal preference, but any dash cam with Wi-Fi and Anker's level of customer service for $41 (after clipping the 5% coupon) is worth checking out, if you ask me. It normally sells for $56, so its list price already represents a significant discount, even before the coupon.
---
There are better, more functional iPhone docks out there, but none that look as gorgeously minimal as the ones Apple makes. This is the same dock you'd see at the Apple Store (albeit without the security tether), and you can get it from Amazon for $25, compared to the $49 Apple would charge you.
---
At 40″, this Sharp 1080p TV is probably smaller than you'd want for your living room home theater, but it could be an awesome bedroom TV, and $130 puts it in impulse buy territory.
To be clear, this wall-mountable set is unlikely to wow you with its resolution or any bleeding-edge features. In fact, it doesn't even have any smart features built-in. Which shouldn't be a big deal if you already have a streaming device, or don't want any internet-connectivity.
Advertisement
But for shoppers on a budget, recent grads, or for a teen's bedroom, this is a solid buy at a terrific price.
---
You don't need to spend hundreds of dollars to enjoy the benefits of noise canceling headphones: TaoTronics' latest noise canceling over-ears are down to just $40 today with promo code CUUY7C6C and when you clip the coupon on the page.
The ANC won't match Sony or Bose, but it'll definitely do well, especially against consistent noises like fans or airplane engines. They'll last 30 hours on a single charge, are extremely comfortable, and fold up for easy storage.
---
The Roku Streaming Stick+ packs more features than you'd ever think was possible in such a small dongle. You get 4K, HDR, advanced Wi-Fi, a voice remote, basically anything else you could want in a larger streaming box. Amazon has it for just $49 today, which is a match for the lowest price we've seen this year, or about $10 less than usual.
---
If you haven't paid much attention to SSD prices lately, or if you get your information primarily from Apple's laptop configurator tool, you might be surprised to learn that you can get an external 1TB SSD for $110. It's true!
Advertisement
This external drive from Silicon Power comes in an aluminum enclosure and connects to your computer via an included USB-C-to-C or C-to-A cable, and can hold a ton of files that need to be loaded quickly: your photo collection, files for video editing, PC games…that sort of thing. Today's deal is an all-time low, needless to say, it's the best deal we've seen on any 1TB external SSD.
---
What were they thinking inventing this surge protector and not calling it the Power Tower? Missed marketing opportunities aside, it comes with 10 outlets, four USB ports, and its own 6ft retractable power cord. Plus, it rotates for optimum space-saving. Get it for $19 with promo code SXXWFNLJ.
---
Aged Ore wowed us last year with its hand-blown whiskey glasses, and now they're back with the most impressive way to travel with booze that we've ever seen.
Advertisement
The Travel Decanter is a half liter, hand blown glass decanter that you can encase in a form-fitting, double walled stainless steel shell. If you're traveling with a pre-mixed cocktail, say to the park, that shell will keep it cold for hours on end. And if you're just trying to check some whisky in your suitcase, it'll ensure that it doesn't spill all over your clothes. Best of all, the two halves of the shell double as drinking glasses, complete with 2 oz. indicators etched into the inside.
The Travel Decanter is up for preorder now, starting at just $35 for earlybird backers.
---
Summer is (basically) here and that means 4th of July sales are kicking off. Instead of wasting money on cheap fireworks that will disappoint you, dive into the savings at Overstock's 4th of July Blowout Sale. You can get up to 20% off select items and free shipping.
Advertisement
During this 4th of July sale, you can get 15% off select home decor, area rugs, furniture, garden and patio, and more. You can refresh your summer wardrobe with 20% off select shoes and clothing.
---
There's no Supreme x North Face in here, but Backcountry's past-season North Face sale is still full of great deals on winter and outdoor essentials alike. Hike over there for pages upon pages of coats, hats, pants, camping gear, and a whole lot more, all for up to 30% off. Priced as marked.
---
If you love board games, you owe it to yourself to buy Betrayal Legacy, especially when it's on sale.
Advertisement
The game is the Legacy version of the popular Betrayal at House on the Hill, and takes place before the events of the original game, fleshing out its backstory while giving you the freedom to craft that story through your play.
Here's what Eric Ravenscraft had to say about the game on The Inventory:
With each successive chapter, you unlock new rules, discover new secrets, and unfold the tale of the world's most haunted mansion. Legacy games in general have a sense of permanence to them. You'll have to destroy certain cards or make permanent alterations that might make the obsessive game collector cringe.

What you're left with at the end, though, is a tale (and a game) that's thoroughly yours. Once you've finished the story chapters, the game can be played as much as you want just like a normal Betrayal game. Your copy will have unique traits that no other copy has. And now, you know the deep and disturbing history of every tile, every item, and every body haunting the house on the hill.
$49 is the best price we've ever seen, and gets you a prologue and 13 chapters, each of which should take about 75 minutes to play through. And once you're done with the Legacy campaign, you'll be left with a fully functional (but totally unique to you) Betrayal game that you can continue to play.
---
Marvel Ultimate Alliance 3 is a Switch exclusive, and it's out in a month with a cornucopia of your favorite characters. Everyone from Wolverine to the Guardians of the Galaxy to the Incredible Hulk are included as playable characters, and some of your favorite villains like Thanos, Green Goblin, and Kingpin also make appearances.
If that sounds like exactly what you need to scratch your post-Endgame itch, Prime members can preorder the game for $52 right now (discount shown at checkout).
---
Fire Emblem's entry in the Dynasty Warriors series has a lot going for it on the combat front, even if the story might leave Fire Emblem fans feeling left high and dry:
Fire Emblem Warriors lacks charm but compensates with spectacle. Battles are hectic and demand more concentration than other musou games. It never completely reconciles Fire Emblem's tactical sensibilities and the Warriors' series raw chaos but what does manages to coalesce is captivating.
If you were tempted to pick it up, but couldn't justify the full $60 expenditure, it's down to just $22 on Switch, which is about as cheap as full retail Switch games ever get.
---
If you care enough about Star Wars to want to relive the films with the best possible image and sound quality, you've come to the right place.
Advertisement
For a limited time at Daily Steals, you can get The Last Jedi 4K Steelbook for $26 (with promo code KJSWJEDI), which includes a stunning 4K Blu-ray, a regular 1080p Blu-ray, and a digital copy all packaged in a collectible sleeve. There are cheaper ways to buy this movie, but not as a 4K Blu-ray.
---
Getting audited by the IRS sounds like less fun than a root canal performed by an art history graduate, but for a limited time, Credit Karma will give you a level of protection for free, just for signing up.
Advertisement
This deal is valid whether or not you used Credit Karma Tax to file your taxes this year. All you have to do is provide your information here (yes, including your social security number) to get a year of free coverage for your 2018 (and only your 2018 tax return). Services include consultation with a tax expert, help with drafting correspondence for the IRS, document review, and more. You can find out more details here. The audit would still suck, but at least it would be more like getting a root canal from an actual dentist.
---
J.Crew Factory is already marked down significantly compared to its regular J.Crew counterpart, but now, the Factory is taking its discounts to a whole new level. Men's and women's styles on the site are 40% to 60% off, kids' styles are 50% off, and clearance items are an extra 50% off. Not to mention, if you buy one pair of shorts, you'll get a second pair free with promo code SHORTY. The whole factory is currently stacked with summertime staples in that classic J.Crew aesthetic, so shop and save on those in-season styles now.
---
Your skin would certainly benefit from this sale on Benefit Cosmetics line of Boi-ing concealers. Right now, four different formulas are available for just $15 each at Ulta. The Industrial Strength Concealer provides heavy-duty coverage, while the Brightening Concealer is well-equipped to disguise dullness or discoloration. Meanwhile, the Airbrush and Hydrating Concealers provide sheer coverage with an ultra blendable feel.
Advertisement
Best of all, they're each meant to be applied with your fingers—perfect for lazy makeup doers like myself. I've been a fan of this line for years, and pretty much always have a pot of this stuff on my person, just in case a blemish arises.
---
If your dog suffers from dry skin, Burt's Bees has a lotion with rosemary and olive oil that is safe to use on sensitive skin. It is great to use on cracked paws, which can happen after dogs walk on hot concrete and pavement during the summer months. Right now, you can get the Burt's Bees for Dogs All-Natural Paw Nose Lotion for only $3 as an add-on item on Amazon. It shouldn't be hard to meet the minimum for add-on item purchases since you probably already have $25 worth of goods in your cart.
---
Every year, Stella Artois sells a charity chalice to benefit water.org. This year's model features etchings designed by watercolorist Eili-Kaija Kuusniemi that illustrates the effect that clean water has on families, and for every one you buy, Stella Artois will donate five years of clean drinking water to someone in need in the developing world. So why wouldn't you buy it for $5?
---
There's really no good reason to step foot in a grocery store anymore. A bunch of stores off delivery now, or at the very least, curbside pickup, and Walmart is leading the charge.
Advertisement
Today, if you place a $50 grocery order at Walmart and choose curbside pickup, you can get $10 off with promo code LA9ARAAC. This code works for both new and existing customers, and I promise it's better than any coupon you'd find in-store.
---
This month's Humble Monthly games include Hellblade: Senua's Sacrifice and Moonlighter. And as always, more games will unlock every Friday until the end of the month.
Advertisement
If you're not familiar, Humble Monthly is a $12 per month subscription service and releases a cache of PC games each month, plus 10% off in the Humble Store, and extra benefits on certain Humble Bundles. The best part? Even if you cancel your membership, every game you add to your Steam library is yours to keep.
---
If you're having trouble sleeping, suffering from anxiety, or having trouble sleeping because you're suffering from anxiety, Sunday Scaries CBD gummies could help. Jolie Kerr shared her thoughts on them for The Inventory, and now, our readers can save 17% with promo code GIZMODO17.
That applies to the regular gummies, the vegan versions, and the pure CBD tincture, with extra savings available if you buy in bulk, so your wallet can rest as easy as you will.
---
Our readers' favorite VPN recently raised prices for the first time ever, and the company's best-value (and Kinja Deals-exclusive) three-year plan is going away at the end of the week, so this is your last chance to subscribe at the best per-month price available.
Advertisement
Three-year plans aren't available to the general public at all, but if you click this link, you can get three years for $99, which works out to just $2.75 per month. That's only $9 more than it was cost to the price hike, and while shorter plan lengths are available, none come close to the per-month pricing of this three-year membership. For example, the publicly available two-year plan costs about $84, and a month-to-month plan will set you back $10 per month.
If you subscribe to the three-year plan today, you'll be able to continue to renew it at the same price for the life of your subscription, so this is a great chance to lock in a terrific deal.
---
Firstleaf is an online wine club that learns your preferences, offers tons of great wines from around the world, and most importantly, saves you money compared to buying from the store.
Advertisement
Every new Firstleaf member gets an introductory delivery with six bottles of wine for just $40 with free shipping, and every box thereafter includes six bottles for $80, plus $10 shipping. But if you use this link when you sign up, you'll get FREE shipping on every box for your entire first year. That'll save you over $100 if you get a new box every month. At the very least, you should send Mom the trial box for less than $7 per bottle. I mean, why wouldn't you?
---