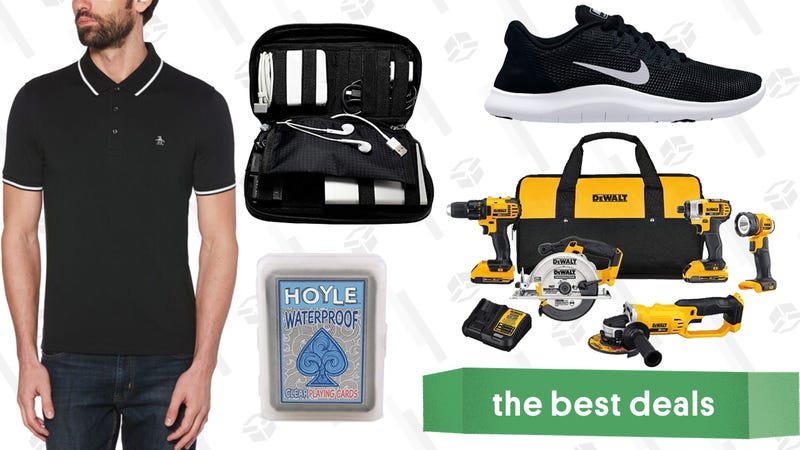 Best Deals of the DayThe best deals from around the web, updated daily.   
Nordstrom Rack's Clear the Rack event, Original Penguin polos, and a sale on Marmot at Backcountry lead off Saturday's best deals.
If you are shopping for your dad right now, we are updating our Kinja Deals Father's Day discounted deals post daily and have a thoughtful Father's Day gift guide as well.
Bookmark Kinja Deals and follow us on Twitter to never miss a deal. Be sure to bookmark our Prime Day deals hub to be ready for the big day.
What gift do you get for the gadget lover who already has everything? A bag to carry their gadgets, of course. The Zero Grid Electronics Travel Organizer is bursting with pockets, straps, and zippers to keep all of your tech gear organized and untangled while you're on the road. Get it for an all-time low $13 today when you clip the $1 coupon and use code 9LFMU9F3.
---
Time is a flat circle, and so is the most flattering light source known to man. Today, you can brighten up your day and your face with a Neewer Ring Light Kit, down to $90 on Amazon when you clip the $20 coupon.
Advertisement
Ring lights are beloved by Instagram influencers and beauty vloggers alike for their downright mystical ability to neutralize splotches and blemishes resulting in a soft, flawless glow. It would make a great gift for the aspiring YouTuber in your life, or just use it to look awesome in your next selfie. (I'm speaking from personal experience here; I was once photographed using an acquaintance's ring light, and the resulting image became my Twitter profile picture for the next two years.)
Beyond the standard $50 discounts you hear about in the middle of every podcast, Casper mattresses don't go on sale often, and Casper accessory deals are even rarer. But Father's Day's 10% sitewide sale (live now) holds the promise of serious savings, if you still haven't gotten rid of that old coil spring.
Advertisement
They've run the same deal for a few other holidays this year, but this is still a solid deal if you're in the market for a great bed.
To get this deal, you have to buy a mattress (sorry, dog mattresses don't count), so you can't take advantage if you're only shopping for accessories. But 10% savings on a standard Casper mattress works out to nearly $100 on a queen, or as much as $240 on the new, advanced Wave mattress. Just use promo code FATHERSDAY at checkout to see the savings stack up.
The best part of the deal is that any accessories you order at the same time will be discounted as well. I'm personally a huge fan of Casper's pillow, but they make everything from adjustable bed frames to sheets to box springs, and unlike the mattresses, those aren't eligible for the aforementioned common podcast discounts.
---
If you have unwelcome animals encroaching on your territory, consider installing this $55 Orbit Yard Enforcer among your collection of garden gnomes. It's a motion activated sprinkler with day and night detection modes, so critters will be deterred by a harmless spray of water and you can go back to enjoying your backyard.
---
Save big on discounted DEWALT tools, thanks to today's Gold Box. Choose from a $296 DEWALT 20V MAX Combo Kit, a $69 DEWALT 20V MAX/18V/12V Jobsite Radio, and a $79 DEWALT DCE511B 11″ Corded/Cordless Jobsite Fan. Just remember that like all Gold Box deals, this price is only available today.
---
Feeling a little dull lately? Take advantage of this one-day deal on the Work Sharp Knife Tool Sharpener. Right now, it's on sale in the Gold Box for $53, so be sharp and shop now.
---
Update: Clear the Rack is now open to all. Happy browsing!
Just in time for a new season, Clear the Rack is on at Nordstrom Rack. And while we know and love this sale for being full to the brim with heavily discounted styles for men, women, and kids, this time around, Clear the Rack is really stepping things up with over 17,000—yes, you read that correctly—items included in the promotion. Shoppers will be able to snag these already marked-down styles with an extra 25% off at checkout, for a total of up to 75% off savings. Today, the sale is open to Nordy Club members only (it's free to join); it will be open to everyone tomorrow.
Advertisement
The best way to sift through this massive stock is probably to sort by your favorite brands, since a few of your favorites — including Nike, Cole Haan, Nike, Levi's, Kate Spade, and so, so many more — are up for grabs on clearance. And be sure to keep an eye out for some of our most beloved styles, like these on-trend Chacos, hike-friendly Smartwool socks, TOPMAN suits that are perfect for summer weddings, or a pair of Frye pool slides. No matter what you're in the market for, chances are it's among the thousands of great deals that the Rack is clearing out now.
---
No guy's closet is complete without a handful of good polo shirts, and Original Penguin has dozens of styles to fit any mood at their Summer Polo Event. Normally priced at $55-$69, many styles are starting at just $18. Take an extra 10% off with promo code SAVE10, plus you'll save an extra 20% if you buy 2 and save an extra 30% if you buy 3 or more. Over 50 different styles are included, so get some for every season.
---
Save 20% on One Full-Priced Marmot Item | Backcountry | Promo code MARMOT20
If you have plans to hit the trails this summer, check out this deal on Marmot gear at Backcountry. Right now, take 20% off a full-priced Marmot item at the outdoor retailer with promo code MARMOT20, so you can finally pick up that tent or sleeping back you've been missing.
Ever had a desire to play cards by the pool? Now you can, with this waterproof clear deck of cards. It's just $5, but summer fun? Priceless.
Tech
HOME
LIFESTYLE
MEDIA
GAMING
DEALS YOU MAY HAVE MISSED
Drop (formerly Massdrop) is offering one of the best deals on the best noise canceling headphones right now, the Sony WH1000XM3 Bluetooth Wireless Noise Canceling Headphones.
While supplies last, you can snag them and mute the entire world around you for $289, down from the usual $349. And, sure, that's is still a big investment, but if you spend a lot of time in noisy planes and trains, or if you work in an open office and just need to be able to find a quiet space, you won't find a better set of headphones.
---
This highly-rated Seagate 2TB hard drive doesn't require an extra power cord, and even comes with two months of Adobe CC photography. Plug it into your computer to back up your files! Plug it into your PS4 to store more games! Just plug it into something; it's only $62.
---
I struggle to remember a time that a single-port USB charger generated as much buzz as Anker's PowerPort Atom PD 1. The tiny, 30W USB-C GaN charger was almost constantly sold out when it came out earlier this year, but now our readers can get it for the best price ever.
Today's deal actually includes a bonus 6′ USB-C PowerLine II cable that you can use with the Atom to charge any USB-C powered device. The bundle normally costs $42, but our readers can get it for $32 with promo code KINJACM2.
While you're at it, grab a really nice USB-C to Lightning cable on sale, and combine it with this charger to charge an iPhone at the maximum possible speed.
---
Anker makes smart plugs now, because Anker makes everything, and the compact model is down to just $23 for a 2-pack.
Advertisement
Smart plugs are basically the atomic unit of smart home gear, and like pretty much all of these things, Anker's let you control or schedule your outlet with both your phone and with Alexa. Their built-in energy monitoring feature, however, is a little less common, and a great inclusion at this price. Plus, its slim design means it won't block the other outlet on a receptacle, so you can plug something else in (including a second smart plug).
---
Just in time for National Take Your Dog to Work Day, you can get your dog a brand new harness. The Rabbitgoo Dog Harness has over 6,600 reviews on Amazon and 4.5 stars. It has four adjustable straps, which makes it a perfect fit for a wide range of dogs of all sizes. Right now, you can get four sizes on sale and the large harness is cheaper than ever.
Advertisement
You can get S through XL harnesses on sale using the promo code 35YSRU3Z. The small green harness and medium green harness are both $14. The large black harness is $11 when you clip the 10% coupon and use the promo code. The extra large green harness, which fits dogs up to 135 pounds, is also $14.
---
It is time to put away your giant comforter from winter and embrace your summer bedding. Crane Canopy has an assortment of fun summer patterns available during their Semi-Annual Sale. You can choose from floral bedding, citrus diamonds, and more.
Advertisement
You can snag some items for up to 50% off during the sale. The Crane Canopy Semi-Annual Sale runs now until June 17. The discount will be applied in cart.
---
With its modular design, free shipping in regular-sized-boxes, and attractive design, Burrow sits on the throne of the direct-to-consumer sofa industry, and you can score a rare deal on the couch (or chair, or ottoman) of your choice during the company's Father's Day sale, including the company's brand new leather offerings.
For a limited time, promo code DAD19 will get you $150 off orders of $900 or more, or $250 off orders of $1,500 or more. That's not the best deal we've ever seen from Burrow, but if Dad's in the market for a new place to sit in the evening, it's a solid discount.
Advertisement
A loveseat, any couch, or a chair paired with an ottoman will get you over the minimum here. As always, you get to pick your fabric, your leg color, and even the height of your arms, and you also get a 30 day risk free trial, with a simple return process if you don't like it.
---
There is no greater way to show someone you love them than making them breakfast. I'm not talking boring scrambled eggs. If you love someone, you better make them waffles. You can truly show them how much you care with a bunch of mini heart waffles since the red Dash Mini Heart Maker Waffle Iron is $3 off right now.
---
We've lost count of how many robotic vacuums Anker's come out with over the last few years, but we do know that the brand new RoboVac 11S MAX is the most powerful model yet.
Advertisement
Boasting 2,000Pa of max suction power (up from 1,500 in the most recent RoboVac 30 models, and 1,000 in the original RoboVacs), it can handle your daily floor maintenance with ease. Naturally, being an Anker product, battery life is great at 100 minutes of continuous runtime, and its low profile 2.85″ height allows it to scoot under sofas and other furniture where your regular vacuum rarely ventures.
Today's $200 price tag is essentially a launch discount from the usual $270, so get it while you can, and spend your vacuuming time doing something you actually enjoy.
---
Taking a shower is exhausting. Sometimes, you really just need to sit down and think about every life choice you've ever made. If you don't want to awkwardly sit at the bottom of your tub (or don't even have a tub), you can get this bamboo shower seat for $10 off. You don't have to actually sit on it if you think that's weird, it can also double as added bathroom storage.
---
All foods are better fried, but because the world is a cruel place, fried foods are bad for you. If you are looking to fry without fear, look no further than this DASH Compact Air Fryer, now down to $56 in four colors, which uses hot air instead of oil to make everything extra crispy. It's also technically an oven, making baking easier than ever, and it's tiny enough to not be a countertop eyesore. You can even use it to reheat pizza. So order up one for yourself before this deal is burnt to a crisp.
---
With a whopping 900 lumens of brightness, a rechargeable battery, a zoomable beam, and IP65 dust and water resistance, Anker's LC90 flashlight is enough flashlight for just about everyone. And with those specs, it's a steal at $20.
Advertisement
To give you a little context about the brightness here, your smartphone's flashlight probably puts out about 40-60 lumens. Again, this has 900. Don't look directly at it.
Just use promo code ANKERLC90 to get this deal before it goes dark.
The smaller, 300 lumen LC30 is also on sale today for $8, thought it uses AAA batteries, rather than a rechargeable.
---
You're about to be spending a lot of time outdoors, so upgrade your deck before summer officially hits with Wayfair's Deck Refresh Sale event. You'll save up to 65% off deck dining, seating, rugs, and storage—basically everything you need to make your outdoor space feel as nice as inside. So don't miss out on your chance to make your backyard the best in the neighborhood for less.
---
The Ninja Foodi, designed in part by friend of the site Justin Warner, wants to be the One True Buzzy Kitchen Appliance. It's a big, hulking thing, but it can do just about everything, as our researcher Corey Foster wrote in an (upcoming) Inventory post:
The Foodi is, however, far more versatile than the Instant Pot, adding broiling, crisping (air frying), and "tender-crisping" (pressure cooking followed by air frying) to the steaming, pressure cooking, searing, sauteing, and souping multi-cooker standards.
So while it is a large appliance, it obviates your need for a pressure cooker and an air fryer, the two appliances around which 90% of new cookbooks seem to be based. Already have them? You can set aside the Instant Pot for rice duty, and use the air fryer to cook sides while the Foodi works on your main course.
And though you likely won't use it as much as you will the pressure cooking and air frying modes, this particular Foodi model even has a dehydrating mode, which can turn fruit slices into fruit chips, and cuts of meat into delicious jerky with just the touch of a button. Let's be honest, you're probably never going to buy a dedicated dehydrator (they cost over $100 in most cases), but if it was built into your multi-cooker, it could surely prove useful.
Advertisement
Originally priced at $280, Amazon's marked the 6.5 quart Foodi down to an all-time low $192 today, which is a bargain when you consider all the stuff it can replace.
---
We've said it before and we'll say it again, you need absolutely no excuse to buy a candle. If you want 20 candles to cover every inch of your house, then buy yourself 20 candles. Though we'd advise you to buy your candles while they're on sale, no one should buy that many candles at full price. Right now, you can get 50% Off Large Classic Jar and Tumbler Candles using the promo code SAVE50LG.
Advertisement
If you plan to spend your summer in the sun, you'll probably like Yankee Candle's Catching Rays scent, which is $15 during this sale. Or maybe you'd prefer something soft and subtle like Beach Walk? You can check out Yankee Candle's large two wick tumbler scents and large jar candles to find and get 50% off your favorites.
---
Butcher Box's most mouth-watering annual offer is finally back: Free bacon in every box for the life of your subscription. Bonus bacon. Forever.
Advertisement
Butcher Box ships grass fed beef, heritage grade pork, and free range chicken right to your door for less than $6 per serving, and if you sign up now for a limited time, you'll get a FREE pack of uncured bacon in every box for the life of your subscription. Think of all you could do with an extra pack of bacon every month.
Your bonus come bundled with any of Butcher Box's pre-selected boxes, which are priced at $129 for 24 servings, or $238 for 48 servings, which can be delivered every 30 or 60 days. For a nominal surcharge, you can also build a completely custom box, with your choices of proteins.
Advertisement
Note: You'll have to enter your email at the beginning of the process. I know, it's annoying.
---
A new season is a good time to rethink you home decor, and you can certainly find ways to spruce up your space with something from Design Within Reach's Summer Clearance Sale. Save up to 60% on everything from full-on furniture like sofas and chairs, to eye-catching accents like lamps and rugs. Quantities are limited, though, so don't wait to load up on the stylish pieces that fit right in with your home aesthetic
---
Wearing high heels without complaining is a skill only a tiny percent of people have achieved. I am not one of those people. I took my mother's advice to buy a pair of metatarsal cushions and I cannot wear high heels without them now. Right now, you can grab a reusable pair of Hyjinx Ball of Foot Metatarsal Cushions for only $6 when you clip the 15% off coupon,
Here's what I had to say about them on The Inventory:
So, I stuck the cushions onto the balls of my feet prior to my next wedding, doing my very best to mimic the picture on the box (which is also the photo on Amazon). I had them on from around 4 p.m. until roughly 1:30 a.m. Were my feet totally without pain? No. But my feet weren't absolutely dying by the end of the night, and I didn't feel a clawing sensation to rip my shoes off. I know for a fact that I would not have survived the ordeal without these little cushions.
---
While it's not as good as some other OneBlade deals we've seen, this Amazon discount is a solid chance to save on our favorite shaving product ever.
Advertisement
For a limited time, you can get a OneBlade for $30 on Amazon, down from the usual $35. The included blade should last you at least 4 months according to Philips, but I've used them for over a year with seemingly no ill effects.
If you aren't familiar with this thing yet, we shared our thoughts about it on The Inventory:
I'm pretty blown away by the Philips OneBlade. I was expecting a deconstructed electric razor or a souped up Gillette Power-style situation, but the OneBlade is more like the next evolution of beard trimmers.

The OneBlade can be used to get a close shave, edge, or trim down to your preferred length. It's also washable and rechargeable, and the replaceable blades that last an estimated four months are already available on Subscribe and Save.

The OneBlade can be used in the shower or over the sink, with or without shaving cream or oil. To be clear, this is not going to give you a straight razor-close shave, but it's going to get you 99.5% of the way there in no time and with no irritation.
---
Amp up your skincare routine for the season with big summer savings at Murad. Right now, you can take $20 off orders of $100 or more; $30 off orders of $150; and $50 off orders of $200 with promo codes SAVE20, SAVE30, and SAVE50, respectively. With a deal like this, it makes sense to load up on the brand's effective line, including cult favorites like the Rapid Age Spot And Pigment Lightening Serum.
---
Is your dad still getting mileage out of his fanny pack from the '80s? Upgrade him this Father's Day to something nice from Coach's Summer Sale. All sale styles, including some stylish wallets, backpacks, and briefcases for men and classy purses for the ladies, are 50% off, so it won't cost you a fortune to tote your stuff in something nice. Just be sure to bag your new bag before this deal is done.
---
Yes, Father's Day is this weekend, but really, all guys will benefit from PUMA's latest promotion. Through Sunday, take an extra 20% off all men's sale styles with promo code POPS19. There are plenty of sneakers, apparel, and bags up for grabs that your dad would love to receive this year, or just get something for yourself, because why not.
---
When it comes to having a corner on the market, nothing really compares to Nike. And right now, use the code SAVE25 and take an extra 25% off their entire clearance section for both men and women. Over 2,500 already-discounted items are even cheaper now, and everything you could need for a good workout wardrobe is included, from apparel, to sneakers, to gear.
---
This year, we said our goodbyes to Game of Thrones, the original Avengers, the Defenders, and, now, we say goodbye to ThinkGeek. As Gamestop prepares to absorb the beloved bastion of nerdom, ThinkGeek is having a "moving" sale.
Advertisement
Grab geeky t-shirts, a giant sword, or a mug to show off your loyalties, whether it be Lannister, Stark, Gryffindor, or Avenger.
Just make sure to use the MOVINGDAY code during checkout to get the discount. Be warned, all sales are final.
Good-night, sweet ThinkGeek; And flights of angels sing thee to thy rest.
---
The Nintendo Switch's best asset is its portability, but unfortunately, the same cannot be said for its TV dock. If you don't want to unplug a bunch of cables just to move it from one TV to another, you can pick up a spare for $69 right now, $21 below MSRP. Honestly, that's still probably more than it should cost, but that's the best deal we've seen in months on the best Switch accessory you can buy.
---
Celeste isn't just one of the best platformers to come out in recent years, though it is that. It's also a poignant story about depression with a banging soundtrack. At $13 (down from $20), it's nearly as much of a must-buy for Switch owners as Hollow Knight for $7.50.
Advertisement
Note: It's also on sale on the eShop, but you'll get more Gold Points by buying it from Amazon.
---
If you own a Nintendo Switch, Hollow Knight is just as essential as Breath of the Wild or Mario Odyssey, and at only $7.50 today, it's a lot cheaper. And by redeeming a digital code from Amazon, you'll receive credit for Gold coins as if you paid the full $15 price. If you bought from the eShop, you'd only be credited for the discounted price.
Seriously; the atmosphere, the map design, the controls, and particularly the music are absolutely top notch here. If you like Metroidvanias, this is a master's thesis in the genre.
---
We all know that the GameCube controller is the only appropriate controller for Super Smash Bros., and now you can use one for Smash Ultimate on your Switch, no wires required.
Advertisement
PowerA's GameCube gamepad connects to your Switch over Bluetooth, no dongles required, and includes everything you need to play every modern Switch game, including home and screenshot buttons, and L3 and R3 clickable sticks, which the original GameCube controller lacked. Normally $50, you can snag one for $37 today, or $40 if you really want purple.
---
Beauty's in the eye of the beholder, but if you ask me, the midnight blue DualShock 4 is one of the best looking game controllers out there right now. It's just a perfect shade of blue. If you agree, today's $40 deal is as good as we've seen outside of Black Friday, when it was briefly on sale for $39.
Bonus: When iOS 13 comes out in a few months, you'll be able to use it with your iPhone, your iPad, and your Apple TV!
---
Thanks to a 15% off coupon from eBay, you can pick up a standalone Xbox One S console for a low $169. That's practically impulse buy territory on this still capable gaming machine. Better still, unlike the all-digital version, this model can play games on discs, saving you space on your 1TB HDD and lets you buy discounted and rent games.
Advertisement
Just add the system to your cart, and the discount will automatically be applied. With what you save, why not pick up Cuphead, too?
---
8Bitdo Wireless USB Bluetooth Adapter | $18 | Amazon | Clip coupon on page
Use your PS4 or Xbox controller with your Switch or retro console with this $18 8Bitdo adapter. It's pretty simple, you plug it into your console, sync your controller with the adapter and you're off to the races.
Why spend $60 on a new Switch Pro controller if you already own a modern, Bluetooth controller? (Better still, Xbox controllers are more comfortable than any Switch controller I've ever used.)
Advertisement
This is a rare (albeit small) discount on this particular gadget. Make sure to pick this up before the coupon on the page is all used up. Happy gaming!
---
Of the two Avengers-focused games shown off at E3, Marvel Ultimate Alliance 3: The Black Order looks to be more promising. And Amazon just inexplicably dropped preorder pricing down to $52 from the usual $60, for the Nintendo Switch.
If you already preordered, Amazon will automatically give you this price when your game ships, and if you order today and it inexplicably gets even cheaper, the same protection will apply. Just add it to your cart, and the discount will be automatically applied.
---
If you have any camping trips planned or sports games to attend this summer, you're going to want to grab this chair while it is on sale. The Coleman Portable Quad Camping Chair is about $10 off right now on Amazon. It comes with a mesh side pocket and cup holder for convenience. The true shining feature of this chair is the four can cooler in the armrest. You can park your rear in it on a long day and have cool drinks on deck.
---
The Herschel Supply Co. Novel Duffel Bag would normally cost you $85, but today you can grab it for just $52 in "Raven Crosshatch," or just $45 in standard black.
Advertisement
It's perfect for the weekend, touting a separate shoe compartment, top handles, and removable padded shoulder strap, plus a waterproof two-way zipper. It also doubles as a great gym bag, which is one thing your roller bag will never do for you.
---
Buying a suit off the rack is almost always a disappointing experience. It never fits quite right, the selection is limited, and it always feels like you're spending way too much for a garment that you don't really love.
Advertisement
Indochino addresses all of these shortcomings with custom tailored suits (and more!) that are cut to fit your specific body, and that allow you to tweak all of the little details and accoutrements to your liking. So today, head over there and design totally unique suit that's built just for you for just $299 with promo code KINJA19.
That code will work on any of the suits on this page, and includes all of your customizations and shipping. If you get it and it doesn't fit quite right, you can even go into an Indochino store to get it adjusted or remade for free, or even get reimbursed after taking it to another local tailor if you don't have an Indochino store near you.
Just about the only thing it doesn't include is a shirt to wear underneath, and they've got you covered there too with a $59 shirt of your choice with promo code KINJA19. And just because it's "just a shirt" doesn't mean you don't get a ton of customizations here too. You can configure it with six different collars, multiple lengths (say, if you want to wear it untucked), short sleeved or long sleeved, and more.
---
I could dance around what makes this underwear unique, but it's easier to just say it: It has a separate compartment for your penis to keep it away from your balls. It sounds a little ridiculous, but as the weather starts to warm up, it could certainly keep you out of some, uh, sticky situations.
Several styles and fabric options are on sale now, including cotton stretch and athletically-minded fast drying boxer briefs, plus some trunks, all with the same compartmentalization.
---
Summer is certainly something to celebrate, and Express is using the incoming warmer temperatures as an excuse to take and extra 30% off their entire clearance section, for a total of up to 60% off. But like all nice weather, this sale won't last forever, so snag the styles you want — everything from dresses, shirts, suits, pants, jeans, and accessories —now.
---
At the intersection of "cute" and "comfortable," you will find Clarks. And right now, the footwear brand is kicking off a new season with an extra 40% off select sale items, plus an additional 20% off, with promo code SUMMER. Treat your feet to new sandals, loafers, slip-ons, and more from this shoo-in of a deal before it's out for the summer.
---
Surprise! Kate Spade is taking up to 75% off a selection of purses via their Surprise Sale. Over 300 styles are up for grabs, from classic totes to jazzed-up crossbody bags and a variety wallets, not to mention a solid selection of jewelry and apparel. Plus, you can snag 10% off your purchase of $150 or more with promo code EXTRAEXTRA. Just know you will have to enter your email address in order to shop (sorry). Be sure to bag this deal soon; the savings will only last for a few more days.
---
Doggy shark doo doo doo doo doo doo, doggy shark, doo doo doo doo doo doo, doggy shark. You can turn your favorite furry friend into a shark when you buy them a Cutypet Shark Dog Life Jacket on Amazon, with a 5% off coupon available to clip on all sizes. The life jackets range in price, starting at $16 for XS and ending at $27 for XL. The sizes appear to cover a good range of dog breeds, with the XS size being tiny enough for pets that only weigh between four and eight pounds, while the XL fits dogs up to 110 pounds.
If your dog is more of a mermaid than a shark, you can also order a pink mermaid life jacket for 5% off, though that style is a hot commodity and has limited quantities on all sizes.
---
You do not need to drink protein shakes to want this Harry Potter BlenderBottle. Honestly, you can just use it as an excuse to finally hit your daily quota for water intake. Right now, you can get the Deathly Hallows symbol BlenderBottle Harry Potter Pro Series 28-Ounce Shaker. A few other HP BlenderBottles are also on sale, though not every house is represented. You can also get Hufflepuff and Ravenclaw bottles for $13.
---
Do you open your refrigerator looking for a snack, only to find utter chaos inside? Take control of that situation with this six-piece set of stackable fridge and freezer storage bins, now just $24—its lowest price ever. There's a bin specifically for keeping your eggs safe, while another provides easy access to drinks. The other trays can be put to use in myriad ways, like separating your fruits from your meats, organizing your salad dressing collection, and so on. But one thing's for sure: Your new type-A fridge will keep you feeling cool as a cucumber come snack time.
---
It looks like something you might buy from the gift shop at a modern art museum, but Amco's Rub-A-Way bar (now just $6) actually serves a real purpose beyond looking like a soap statue.
Advertisement
After you handle pungent things in the kitchen like garlic or fish, you just rub this thing around in your hands like a bar of soap. According to Amco, "the molecules in the steel bind with the sulfur molecules on your hands, thus transferring the molecules, along with the smell, to the metal and off from your hands," which all sounds a bit hand-wavey, but it carries a 4.3 star review average from over 1,600 customers, and multiple friends have also recommended it to me personally.
---
Are you still storing your spaghetti in the cardboard box it's sold in? I am, but now I see the error in my ways, thanks to this $17 four-piece set of stainless steel and glass canisters—down to its lowest price ever. The airtight jars keep your food fresh for longer and safe from any household pests, not to mention they really class up the inside of your cabinets. Save a few bucks on the set today, since adulthood is, apparently, transferring all your dry foods to designated containers.
---
The secret to the fastest, most evenly-cooking toaster ovens out there might surprise you. It's steam!
Advertisement
Steam ovens have long been a secret weapon of bakeries and restaurants, but consumer models are finally starting to go mainstream, and today's deal is the most affordable we've seen yet. Cuisinart's Steam Convection Oven is big enough to accommodate a 12″ pizza, a 4.5 pound chicken, or four large slices of bread, and its water reservoir can push up to two hours of continuous steam for faster, more even cooking when combined with the unit's broilers and convection fans.
$186 is the best price ever on this oven, and the best price we've ever seen on any countertop steam oven.
---
Until very recently, USB-C Power Delivery battery packs were exclusively large. Like 20,000mAh or more, and a few pounds to boot. But if you don't need that much power for a few hours on a plane, this pack from Xcentz is a svelte 5,000mAh, and only $11 today with promo code XCENTZ174.
Advertisement
To be clear, its USB-C PD port only outputs 18W, not the 30W or even 45W we've seen on larger packs. But I used a (10,000mAh) sample they sent with my Nintendo Switch on a flight recently, and it was fast enough to increase the charge level on my Nintendo Switch while playing Breath of the Wild, albeit not very quickly. It'll also charge an iPhone at the maximum possible speed if you pair it with a USB-C to Lightning cable like this one.
---
If you want to give the gift of a Tile Bluetooth gadget finder for your forgetful dad this Father's Day, you should buy this four-pack with a user-replaceable batteries. Today's $50 deal on a four-pack of the new Tile Mate is $10 less than usual, and yes, you can even replace the batteries yourself now.
Advertisement
The individual Tile is also a pretty solid deal today at $19, though that's not quite as historically low as the 4-pack, which hasn't been this cheap since last October.
---
Anker's Nebula Capsule II addressed just about every shortcoming from the original soda can-sized Capsule projector, and now you can save $60 on it for the first time (if you don't count the Kickstarter preorder discounts) with our exclusive promo code KJEXCLM2.
Featuring a 720p sensor, double the brightness of its predecessor, Android TV built in, a great sounding speaker, and enough battery life to get through an entire movie, it's basically a portable movie theater that you can take with you anywhere.
Advertisement
In my use, I found it to be a great portable TV that I could set up in rooms where I didn't have (and didn't want to have) an actual TV. Cleaning the bathroom? Set up the Capsule and binge The Office. Working on dinner? Project the NBA playoffs onto my backsplash. It's definitely a big investment, but I think you'll get more use out of it than the occasional, novelty outdoor film screening.
---
Save big on Mario Kart 8 Deluxe, Donkey Kong Country: Tropic Freeze, Hyrule Warriors: Definitive Edition, Super Mario Odyssey and Sid Meier's Civilization VI digital codes. These are about $10-$20 off their regular price and an excellent deal if you're going the digital route.
---
Final Fantasy VII Remake is finally out next March (along with, uh, just about every other video game?), and Walmart's currently offering a $10 discount when you preorder the Deluxe Edition.
Advertisement
That includes the game, a steelcase, an art book, a sound track, and some exclusive DLC. With the discount, your price only comes out to $10 more than the standard edition, so if you were going to pick up the game anyway, this is worth considering. Kotaku got a hands on with the game (and details about its new combat system) at E3 this week if you're on the fence.
---
The Hitchhiker's Guide to the Galaxy on Kindle is not the answer to life, but it is the answer to "what's the best three dollars you'll spend today?" Just don't forget your towel.
Seconds before Earth is demolished to make way for a galactic freeway, Arthur Dent is plucked off the planet by his friend Ford Prefect, a researcher for the revised edition of The Hitchhiker's Guide to the Galaxy who, for the last fifteen years, has been posing as an out-of-work actor.

Together, this dynamic pair began a journey through space aided by a galaxyful of fellow travelers: Zaphod Beeblebrox—the two-headed, three-armed ex-hippie and totally out-to-lunch president of the galaxy; Trillian (formerly Tricia McMillan), Zaphod's girlfriend, whom Arthur tried to pick up at a cocktail party once upon a time zone; Marvin, a paranoid, brilliant, and chronically depressed robot; and Veet Voojagig, a former graduate student obsessed with the disappearance of all the ballpoint pens he's bought over the years.
---
Before you hit the trails on your outdoor adventures this summer, stop by Backcountry's sale on camping and climbing gear. Right now, a selection of full-priced items, including tents, helmets, ropes, backpacks, and much, much more, have set up camp in this 20% off promotion. Just use promo code TAKE20JUNE to take advantage of the discount, and you'll be ready to head out into the wild blue yonder.
---
Right now, Adidas is running a sale that's sure to get your blood pumping. In celebration of their most loyal customers, the retailer is taking 30% off the purchases of their Creators Club Members (it's free to sign up). So score a new pair of kicks or some brand new workout clothes for the season, since this sale's only happening through Sunday.
---
For nights (or redeye flights) where you just can't get to sleep, melatonin supplements are a natural, effective way to help you get some shuteye.
Advertisement
Natrol is one of the leaders in the space, and their fast-dissolving (and thus fast-absorbing) tablets are cheaper than ever before on Amazon today, at just $7 for a jar of 100. Just don't sleep on this deal, we don't know how long it'll last.
---
I share a bed with one human, three cats, and one eight-pound dog, so any time I see something that promises better sleep, I jump on the chance to try it. At the ripe old age of 28, I've begun to experience neck pain when sleeping. It is most often correlated with falling asleep with a bun in my hair, but some nights, I managed to tweak my neck just from sleeping at the wrong angle. When I saw the Dullo Pillow, I figured it would be a great product to try, and if not, I would at least have another pillow to add to my insane collection.
Advertisement
The Dullo Pillow is a cervical pillow that is advertised on Kickstarter to be unlike any other pillow. It is designed to cradle your head and neck, while evenly distributing the weight. The cradling sensation is meant to help you fall into a deep sleep, which will then keep you from having restless movement throughout the night. One side of the pillow has a crown crater for back sleepers, while the other side has an arch for side sleepers. The pillow has a microfiber filling, which was designed to ensure the best blend of soft and firmness. It also has ventilation, to keep both sides of the pillow cool.
Like I said earlier, my bed is very crowded. The overcrowding can cause a lot of restlessness at night. Especially when my dog and I are fighting for premium pillow real estate. The Dullo Pillow really did help cut down on restless movements, primarily (I think) because I got to lay on my back. I never used to sleep on my back until I had surgery a few years ago. The Dullo Pillow's center crater really did feel like it was perfectly molded for my head. Because I was able to sleep comfortably on my back, my animals had better areas on my body to sleep on. Rather than sleeping on my hip, my cat slept on my stomach through the night. I found myself waking up less frequently after sleeping with the Dullo Pillow. When using the pillow, I didn't feel like I needed to keep repositioning my head to get comfortable. If I did move, I was able to comfortably settle right back into the same position as before and fall back asleep.
Advertisement
The Dullo pillow is on Kickstarter, with preorders starting at $69. Pillows are expected to ship in September 2019.
---
You'd be forgiven if you automatically dismiss Lenovo notebook as a run-of-the-mill, garbage sub-$500 laptop, but you'd be mistaken. Amid all the vanilla specs (4GB of RAM, 1TB HDD, i7 processor, etc.) from this $460 15″ laptop is something pretty cool: Optane Memory.
Gizmodo's written quite a bit about it. Here's what Alex Cranz said about Intel's tech:
Optane Memory … is much cheaper—think $30 for a stick, and works in tandem with your storage drive, remembering commonly loaded files, like game textures or software libraries, and loading them faster than your storage drive alone ever could. In our tests the Optane memory paired with a traditional HDD, was two to three times faster than without the memory.
For the user who only uses their laptop for browsing the web, Netflix and occasionally catfishing someone in Des Moines, this is a solid laptop and quite a deal to boot.
---
Apple only started allowing third parties to make USB-C to Lightning cables a few months ago, but Anker's already brought the fast-charging technology to their best cable: the PowerLine+ II.
Advertisement
The cable combines the best stuff from all of Anker's premium charging cables, including a nylon-braided wrap, metal connectors, a 30,000 bend lifespan, and even a lifetime warranty if it somehow does ever break. And since it's USB-C, it allows you to charge your iPhone at the fastest possible speeds from any USB-C PD charger: from 0% to 50% in just 30 minutes.
Just use promo code ANKERC2L to get the deal. Valid on black or red.
---
Everlane's Choose What You Pay section (which, for the unindoctrinated, allows shoppers to choose from three different, discounted price points for an item) is always a good source of savings on some of the brand's coveted, stylish basics, but it's usually pretty limited. That is, until now.
Advertisement
Everlane Biggest Choose What You Pay Summer Event is on, and sections for both men and women have been flooded with a ton of new overstocked inventory, including a selection of coveted Everlane denim and shoes for the ladies and a range of chinos for guys. This is likely the last you'll see of these styles, so take your pick before they sell out, as many of Everlane's offerings are wont to do.
---
Whether you're celebrating a grad or a dad this month, Reebok wants to help you gift them the best gear. Right now, save 30% sitewide from the activewear brand with promo code DADGRAD, and load up your loved ones with workout-ready sneakers, apparel, and accessories galore. Just be sure to shop soon, before you miss out on that gold medal in gift giving.
---
If you don't have the time or inclination to shop for your own clothes, The Menlo Club will send you a couple of surprise products from Five Four, Grand AC, or New Republic each month, in your size, for $60. And for a limited time, you can get $35 off your first order, plus a free pair of shoes and socks.
Advertisement
When you sign up for a new subscription, you'll provide Menlo Club with the styles that you like (Casual, Classic, Forward, or a mix), plus all of your shoe, pant, and shirt sizes, so you can be sure that everything will fit. If something doesn't fit when it arrives, size exchanges are free, as is shipping.
You can cancel whenever you want, and for a limited time, you can get your first box for just $25, plus a bonus t-shirt, dad hat, and either swim trunks or sunglasses. Just use promo code MenloFather at checkout to get the offer. At $25 for all of that (plus the stuff you'd ordinarily get in the box), why wouldn't you at least give it a shot?
---
It's not cold outside anymore, but anxiety is always in season. In addition to keeping you warm, a weighted blanket can work wonders for your anxiety, and several different models are on sale for Father's Day, if you still haven't picked out a gift.
Advertisement
The deals skew towards heavier blankets for your large, manly dad who can take such weights. Options include a beefy 25 pounder for just $70 (with code TB3MR33M), a 20 pounder for just $49 (with code K65ACBZ6). Just be sure to note the promo codes above or below to get the deals.
Personally, I want my weighted blankets to be capable of breaking ribs (I own a 25 pounder myself), but the general recommendation is 10% of your body weight. Not to stress you out, but we wouldn't expect this deal to last for long.
---
If you want the durability and lifetime warranty of Anker's PowerLine II charging cables, but you own a lot of different devices, this $11 microUSB cable (with promo code ANKER3IN1) includes Lightning and USB-C adapters attached to the end. It's a little awkward looking, but it's nice to know you'll always have the right cable handy.
---
This month's Humble Monthly games include Hellblade: Senua's Sacrifice and Moonlighter. And as always, more games will unlock every Friday until the end of the month.
Advertisement
If you're not familiar, Humble Monthly is a $12 per month subscription service and releases a cache of PC games each month, plus 10% off in the Humble Store, and extra benefits on certain Humble Bundles. The best part? Even if you cancel your membership, every game you add to your Steam library is yours to keep.
---
If you didn't buy enough years for $40 back on Black Friday, you can get the exact same price today on PlayStation Plus from Amazon today in celebration of E3. If you own a PlayStation 4, or are planning to buy one soon, the only question is how many of these membership years you should buy, not whether you should buy them.
---
iTunes gift card discounts are noticeably less common than they used to be, so if you need more credit for apps, music, movies, iCloud storage, or anything else, buy a $100 gift card from eBay for 15% off, while supplies last.
Advertisement
This gift card is sold by Paypal's eBay store, and should arrive in your inbox within four hours. Just don't spend it all on Elder Scrolls: Blades gems.
---
If Amazon's recent acquisition of eero didn't scare you off the pioneer in mesh networking, the retailer is celebrating its new networking play-thing with big discounts across the board, for a limited time.
Advertisement
Get a an eero and an eero Beacon (which plugs straight into the wall and doubles as a night light) for $239 (a $60 discount), an eero and two beacons for $319 (an $80 discount), or for the largest and most densely constructed houses, three full eero routers for $399 (a $100 discount). To be clear, If you live in a one bedroom apartment, you don't need any of these, but if you find that a single router doesn't get you a reliable Wi-Fi signal in every part of your house, mesh systems like these are a godsend.
---
USB-C has been great in a lot of ways, but it's going to be a long time until all of our accessories use the new connector. So if you have a laptop, tablet, or even phone whose only physical connection to the outside world is a USB-C port, you're going to need a dongle.
Advertisement
Luckily, this space-saving option from Anker includes three USB 3.0 ports, an HDMI port, and even an ethernet port, and you can add it to your bag for just $32 today with promo code KINJACH5. The $33 list price is itself an all-time low by $3, so our code is a cherry on top.
---
The new, waterproof, Bluetooth-equipped Kindle Paperwhite is $30 cheaper today. This is one of the better deals we've seen, and if you have an Amazon Prime credit card, you'll get 10% cash back, which effectively lowers the price to $90.
Oh, and if you want the cheaper, all-new Kindle—that's also cheaper now, too. It's selling for $70 which is also the lowest price we've ever seen. The more expensive Oasis is also $50 off with 20% cash back for Prime card members.
---
We're big fans of Dallas-based Breda's minimalist timepieces, and starting under $60 for a ton of different styles, they'd make for a great Father's Day gift.
Advertisement
For a limited time, use promo code KINJA30 to save 30% on the dozens of watches found on this page, plus free shipping, and even a free gift box.
---
If you're having trouble sleeping, suffering from anxiety, or having trouble sleeping because you're suffering from anxiety, Sunday Scaries CBD gummies could help. Jolie Kerr shared her thoughts on them for The Inventory, and now, our readers can save 17% with promo code GIZMODO17.
That applies to the regular gummies, the vegan versions, and the pure CBD tincture, with extra savings available if you buy in bulk, so your wallet can rest as easy as you will.
---
Our readers' favorite VPN recently raised prices for the first time ever, and the company's best-value (and Kinja Deals-exclusive) three-year plan is going away at the end of the week, so this is your last chance to subscribe at the best per-month price available.
Advertisement
Three-year plans aren't available to the general public at all, but if you click this link, you can get three years for $99, which works out to just $2.75 per month. That's only $9 more than it was cost to the price hike, and while shorter plan lengths are available, none come close to the per-month pricing of this three-year membership. For example, the publicly available two-year plan costs about $84, and a month-to-month plan will set you back $10 per month.
If you subscribe to the three-year plan today, you'll be able to continue to renew it at the same price for the life of your subscription, so this is a great chance to lock in a terrific deal.
---
Firstleaf is an online wine club that learns your preferences, offers tons of great wines from around the world, and most importantly, saves you money compared to buying from the store. It's a solid deal any time, but it's even better for our readers right now in preparation for Mother's Day.
Every new Firstleaf member gets an introductory delivery with six bottles of wine for just $40 with free shipping, and every box thereafter includes six bottles for $80, plus $10 shipping. But if you use this link when you sign up, you'll get FREE shipping on every box for your entire first year. That'll save you over $100 if you get a new box every month. At the very least, you should send Mom the trial box for less than $7 per bottle. I mean, why wouldn't you?