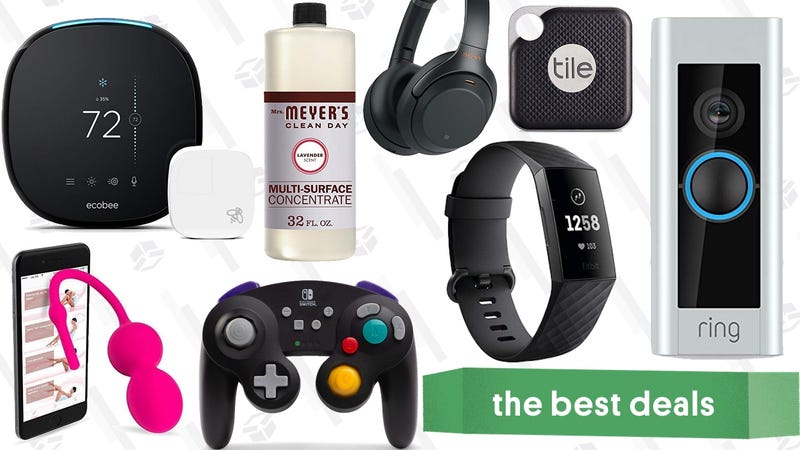 Best Deals of the DayThe best deals from around the web, updated daily.   
A massive Sunday of great deals includes Anker speakers, Ring's Father's Day deals, the best noise canceling headphones, and a lot more.
Bookmark Kinja Deals and follow us on Twitter to never miss a deal.
Anker Bluetooth Speaker Gold Box | Amazon
Anker has long made some of our readers' favorite Bluetooth speakers, and today, you can get four of them on sale from Amazon's Gold Box.
My pick of the bunch is the SoundCore 2. It's not sexy, but with a 24 hour battery, a pair of 6W drivers, and IPX7 water resistance, it's incredibly practical. It's an absolute steal at $28.
Need a louder speaker without the extra long battery and Bluetooth? Anker's Premium speaker is also on sale.
Two of the company's newer, more boldly designed options are included in the sale as well: the Soundcore Flare with a built-in lightshow, as is the bigger, louder Soundcore Motion Q. Just remember that like all Gold Box deals, these prices are only available today, or until sold out.
---
Tile recently released new gadget finders with user-replaceable batteries, addressing a longstanding concern, and in my opinion, eliminating any reasonable justification for not buying at least one.
Now, you can pick up four Tile Pros for just $73, which is an all-time low, and basically like buying three and getting one for free.
Advertisement
The new Tile Pro is water resistant, has a 300′ range (twice as far as the Tile Mate), and an extra loud speaker. I have a Tile on my keychain, which I've used just as often to find my phone as I have to find my keys, and even if you can't think of four things you want to keep track of, maybe you could go in on this purchase with a friend or two.
---
Amazon's offering one of the best deals on the best noise canceling headphones right now, the Sony WH1000XM3 Bluetooth Wireless Noise Canceling Headphones.
While supplies last, you can snag them and mute the entire world around you for $298, down from the usual $349. And, sure, that's is still a big investment, but if you spend a lot of time in noisy planes and trains, or if you work in an open office and just need to be able to find a quiet space, you won't find a better set of headphones.
---
Ring Father's Day Sales | Amazon
Video doorbell or standard security cameras? Camera-based or traditional security system? Whatever your home protection preferences, you can get a great deal on the setup of your choice today.
Amazon's discounting nearly all of its Ring products (save for the smallest accessories) right now, including two different video doorbells (the Ring 2 is battery-powered, while the Pro hooks into your doorbell wiring), a full home security starter kit (with a free Echo Dot), and various cameras, including the Floodlight and Stick-Up Cam, in both wired and battery forms. And in true Amazon fashion, they all come with free Echo Dots.
---
Wi-Fi range extenders aren't a networking cure-all, but if there's one spot in your house with spotty coverage, they can be a much cheaper solution than buying a new router. So at an all-time low $15, why not give this one a try? Just clip the $2 coupon to get the deal at checkout.
---
The Fitbit Charge 3 is the fitness tracker, perfected, and you can get it for an all-time low $120 on Amazon today. Steps not included, you'll have to provide those yourself.
While it doesn't have the brand recognition of Nest's learning Thermostat, the Ecobee4 Smart Thermostat one-ups its most popular competitor by pairing with wireless remote sensors that you can place elsewhere in your house, giving the thermostat a more accurate picture of your home's overall temperature. Plus, it'll work with Siri via HomeKit, and your Amazon Echo too.
Today's $169 price tag is the lowest Amazon's ever listed, and would be unprecedented if not for an out-of-the-blue $150 sale from Target a few months ago.
---
If your home isn't as brainy as you'd like it to be, Home Depot's Special Buy of the Day today is full of smart home gear to automate your daily drudgery. Inside, you'll find smart locks, smart thermostats (mostly limited to 2-packs, annoyingly), security cameras, smart light switches, and more. Just remember that these prices are only available today, so don't wait for the deal to reboot.
---
Lifetime Outdoor Furniture Sale | Amazon
The Lifetime patio furniture in today's Amazon Gold Box isn't very trendy (with the exception of the Adirondack chair), but it's very affordable, and very practical for backyard barbecues, tailgates, and any other events where you need more table space and seating than you otherwise ever would.
Like all Gold Box deals, these prices are only available today, or until sold out.
---
Ear plugs are great for sleeping on planes, and you're supposed to wear them to loud concerts too to protect your hearing. Buy this bag of them for $14, and you'll be stocked up for years.
---
Contigo's Autoseal Chill is one of our readers' favorite water bottles, and you can snag a 24 ounce version for just $16 today.
---
If you're running low on cleaning supplies, or even if you aren't, it's worth stocking up on Mrs. Meyers' terrific multi-surface cleaner on sale. Get a pair of 32 oz. bottles for just $10 with Prime shipping today, a new all-time low.
---
You might not need to use a Dremel all that often, but it's one of those things everyone should keep in their tool box, if only for sanding wood and carving jack-o-lanterns.
Advertisement
The Dremel 200 is an entry level model, and thus can only spin at two speeds, compared to the variable speed motor you'll find in more expensive models. But still, it'll get the job done for a ton of tasks around the house, and includes 15 accessories to get you started.
Amazon's one-day wallet sale is pretty easy on the, uh, wallet.
Over two dozen options are available, almost all of which cost under $12. The sale definitely skews towards modern, front pocket wallets, but you'll also find some bifolds and trifolds for your dad who just doesn't want to stop ruining his back by sitting on a lump all day.
---
Kegel exercises can improve your bladder control and strengthen your pelvic floor after childbirth, and this exercises connects to your phone over Bluetooth (not the internet, they take pains to say) to guide you through exercises and control the built in vibration feature. $55 is the best price of the year.
---
Amazon makes its own lingerie now, because of course they do, and a bunch of it is on sale today.
---
Spare a thought for your delivery driver, but these are extremely good deals on CAP Barbell dumbbells and kettlebells.
Need a new book to read on the beach or by the pool? Amazon's marked over 70 popular titles down to just a few bucks each, as is their custom on Sundays. Personally, I downloaded No Exit, and even got it for free with all my No Rush Shipping credits:
On her way to Utah to see her dying mother, college student Darby Thorne gets caught in a fierce blizzard in the Colorado Rockies. With the roads impassable, she's forced to wait out the storm at a remote highway rest stop with no cell phone reception. Inside are some vending machines, a coffee maker, and four complete strangers.

Desperate to find a signal to call home, the exhausted young art student goes back out into the storm . . . and makes a horrifying discovery. In the back of the van parked next to her car is a little girl locked in an animal crate.

Who is the child? Why has she been taken? And how can Darby save her?

There is no way to call for help and no way out. One of her fellow travelers is a kidnapper. But which one?
Have any other suggestions? Drop them in the comments.
We all know that the GameCube controller is the only appropriate controller for Super Smash Bros., and now you can use one for Smash Ultimate on your Switch, no wires required.
PowerA's GameCube gamepad connects to your Switch over Bluetooth, no dongles required, and includes everything you need to play every modern Switch game, including home and screenshot buttons, and L3 and R3 clickable sticks, which the original GameCube controller lacked. Normally $50, you can snag one for $37 today, or $40 if you really want purple.
Tech
Home
Lifestyle
Media
Gaming
Deals You May Have Missed
Anker just keeps on iterating on its true wireless earbuds, and now, you can get the new Soundcore Liberty Neos for an all-time low $42 (after clipping the $3 coupon), down from the usual $60-$65.
Advertisement
As Anker's new budget true wireless buds, there aren't too many bells and whistles here, save for the ability for both earbuds to operate independently (many true wireless earbuds have one bud pair to the other, rather than both pairing to your phone), and Bluetooth 5.0, which ensures a rock solid connection from a longer distance.
The earbuds should for 3.5 hours on a charge, and the charging case includes 12 hours worth of battery life too for longer sessions. That's not as much as some of Anker's more expensive models, but honestly, it's enough for most situations.
---
If you somehow don't already have access to smart apps on every TV in your home, today's the day to fix that. Both the 1080p Fire TV Stick and the Fire TV Stick 4K are $10 off, and the Fire TV Cube (with built-in Alexa) is $40 off.
Even if you already have all the streaming dongles you could ever want, it's also worth checking out the Fire TV Recast if you pull in local TV channels with an antenna, as it's $40-$50 off, depending on the capacity. The Recast takes the stations your antenna pulls in, and then streams them to all of your devices over the internet, while also acting as a DVR.
---
Ultimate Ears has long made some of the best sounding and most durable (not to mention best looking) Bluetooth speakers, and their newest BOOM 3 is marked down to an all-time low $120 on Amazon right now.
---
The spiritual successor to the popular Anker SoundCore Sport, the SoundCore Icon Mini is a tiny speaker that's designed with the outdoors in mind, and you can save $5 by using the coupon code WELOVEFATHER.
Advertisement
The Icon Mini boasts eight hours of battery life, which is awfully impressive in a speaker that weighs as much as your phone, and takes up about as much space as a deck of cards. It's also IP67 dust and water resistant, so it can even get fully submerged (to a point) without taking any damage. But best of all, if you get two of them, you can pair them together for stereo sound that will fill your beach tent or campground.
---
Don't look now (actually do), but Amazon's home furnishing offerings have gotten really good.
Advertisement
Today on Amazon, you can save on dozens of pieces of cookware, lamps, desks, chairs, and even entire couches. Every product in this sale that I checked was down to its best price ever, and I've highlighted a few of my favorites below. You'll want to head over to Amazon though to take your pick of trendy, understated mid-century modern decor.
---
Amazon's Prime Pantry program has been few a few different iterations, but it's always been an easy way to stock up on certain groceries without actually going to the grocery store, which is just awful!
Advertisement
For a limited time, Prime members can save $5 on their Pantry order by buying five select items, $10 by buying 10 select items, or $15 by buying 15 select items. Hundreds of products are eligible, including snacks, beverages, toiletries, and household goods, so you can surely find at least five things that you need right now.
Orders over $35 ship for free, so make sure you hit that threshold as well.
---
Update: This sale is inexplicably still live, nearly a week later. It's still a good deal!
Advertisement
Memorial Day is one of the best times of the year to buy a mattress, and Leesa isn't letting us down with 15% off both its standard foam and hybrid spring mattresses, plus two free pillows with every order.
The pillows themselves are somewhat mysterious—they're automatically added to your card, and are described as "Down Alternative Pillows," which aren't listed on Leesa's pillow page—but hey, they're free.
The queen Leesa mattress will set you back $845 during this sale (down from $995), and the equivalent hybrid mattress costs $1,440 (down from $1,695). If you need help deciding, there's a comparison page here, so you can sleep easy with your decisions.
---
Joseph Joseph's Cut Carve cutting board is double sided, dishwasher safe, and angled to collect juices. One side even has spikes to hold your meat in place while you carve. No, it's not as pretty as a butcher block, but it's a functional cutting board that you'll find yourself using every night. Get the black one for an all-time low $14 today, down from the usual $20.
---
Gerber's 4.2 star-rated paraframe knife features a unique handle that keeps weight to a minimum, and a deal that keeps its price to a minimum as well.
---
Why use a traditional vacuum when it is 2019 and you can have a robot do it for you? Life is much to short to waste time vacuuming. Right now, you can get a Eufy RoboVac 30C for $210 when you clip the $20 coupon and use the promo code CLEAN555. The RoboVac is WiFi upgraded and works with voice-control services like Alexa and Google Assistant. You won't have to worry about this vacuum getting into places you don't want, as it comes with boundary strips. The vacuum has an ultra-slim body and can provide 100+ minutes of constant, powerful, and quiet suction.
---
This might be a controversial take, but I have to say it: mosquitoes…they're bad! I don't like 'em!
Advertisement
The problem is, I also don't really like putting bug spray on my body, and that's where Thermacell comes in. The company's full line of electronic and battery-powered mosquito repellant products create a virtual bubble of protection from the blood-sucking bugs wherever you are, whether it's in the backcountry or just in your back yard.
Now, for Father's Day, they're taking 20% off all orders with promo code Hero19, plus free shipping on orders of $49 or more. Suck on that, mosquitoes.
---
Want to keep your money and small valuables really safe from pickpockets while traveling? This belt includes a hidden zipper pouch on the inside, which…yeah, that ought to do it.
Advertisement
If that weren't enough to make you feel secure, the belt also comes with two bonuses: Up to $300 in reimbursements in the event that items are stolen from the belt, and two Recovery Tags from ReturnMe, a worldwide lost and found company.
So if you have any trips on the docket, you can get the belt for just $12 today with promo code JMME8DPE.
---
If you're having trouble sleeping, suffering from anxiety, or having trouble sleeping because you're suffering from anxiety, Sunday Scaries CBD gummies could help. Jolie Kerr shared her thoughts on them for The Inventory, and now, our readers can save 17% with promo code GIZMODO17.
That applies to the regular gummies, the vegan versions, and the pure CBD tincture, with extra savings available if you buy in bulk, so your wallet can rest as easy as you will.
---
Unlike a regular umbrella, Sport-Brella leans backwards and attaches to the sand with stakes, creating a kind of semi-private cocoon with enough space for a couple of chairs and a cooler. Best of all, it sets up in about five minutes (once you know what you're doing), and can provide a full day's worth of privacy and sun protection.
---
Get your web slingers ready, because you're going to want to get this Spider-Man deal before it skitters away. Right now, you can buy a digital copy of Spider-Man: Into the Spider-Verse for only $10 on Amazon Prime Video, which is 50% off the usual price. That's a steal for a movie that has been praised as one of the best Marvel films and won an Oscar.
---
Evan Amos' Wikipedia-famous game console photography makes for a stunning coffee table book, and it's down to an all-time low price on Amazon right now. Featuring 300 pages of full color photography spanning the entire history of video games, it also gives you a rare look inside some iconic consoles. Today's $17 price is the best we've seen since the holidays, and within about $1 of an all-time low. Just make sure to clip the coupon on the page.
---
Most of Arcade1Up's 3/4-sized arcade cabinets include 2-4 games. The Deluxe Atari cabinet though includes 12, and you can get it for $300 today, down from $400.
Advertisement
Play Asteroids, Centipede, Major Havoc, Missile Command, Lunar Lander, Crystal Castles, Tempest, Millipede, Gravitar, Liberator, or Asteroids Deluxe whenever you'd like, no quarters required. Walmart even includes a 12″ Arcade1Up riser for free with this cabinet (normally $40 separately), so you won't have to hunch over while you play.
---
The great thing about Philips Hue is that your fancy lighting profiles aren't limited to standard bulbs; the Hue LighStrip Plus lets you to stick a rope of color-changing, Wi-Fi connected lights anywhere in your house.
This LightStrip Plus is compatible with Alexa, Google Assistant, and Apple HomeKit, and it hardly ever goes on sale, but while supplies last, you can pick it up for $64, the best price Amazon's listed all year. This kit includes a 6′ strip, but you can add on 40″ extensions for a (comparatively) affordable $25, if that's not quite long enough.
---
Long charging cables are terrible for traveling, and further, they're almost always unnecessary. If you can get by with a tangle-proof 1′ cable in your bag, you absolutely should. Not only will they reach your nightstand just fine from most hotel power outlets, but they're also easier to stuff in your pocket to use with a portable battery pack. This PowerLine model from Anker is on sale for $7 today with promo code ANKERL1W.
---
The Apple Watch charging cable is an awkward thing to pack for a trip. For one, it's probably firmly attached to some kind of dock or stand on your nightstand, and thus easy to forget. For two, the thin cable with a big, heavy puck on the end is a tangling nightmare in your bag.
Advertisement
Enter UGREEN's portable Apple Watch charger, now down to $32 after you clip the $2 coupon and add promo code HDSHVH58. It doesn't have a cable at all, but rather plugs straight into a USB charging port, and balances your watch on top. Smart!
---
Whether you require the raw power, advanced screen, and superior camera, and USB-C connectivity of the latest and greatest iPad Pros, or if the standard 9.7 iPad can fulfill your tablet needs, Amazon's offering all of Apple's latest tablets for some of the best prices we've seen.
Advertisement
Depending on capacity and color, the mammoth 12.9″ iPad Pro is $50-$220 off (though the 256GB and 512GB models are both down to the best prices ever), the 11″ Pro is $50-$150 off (the 64GB and 1TB models are cheaper than ever, the others are have been cheaper), and the 32GB standard iPad is $80 off (32GB only). If you need help deciding which one's right for you, Apple has a handy comparison chart here.
---
New on-sale summer styles await at Original Penguin. Right now, take an extra 50% off a selection of apparel, including cool button-downs, polos, and tees, with promo code SAVE50. Just snag your clothes ASAP, since this sale won't last past tomorrow.
---
This weekend, step up your sneaker game thanks to Joe's New Balance Outlet. The retailer is currently offering up to 40% off men's and women's lifestyle shoes with promo code CLASSICS40, plus almost 100 styles for men and women going for 50% off or more), and 70% off apparel for men and women with their Memorial Day Sale. But don't let these stellar prices through you off balance, since you only have until Monday to snag the styles that suit you.
---
Amazon sells its own activewear, because Amazon sells everything now, and they're discounting a bunch of the men's stuff below their already-low MSRPs today.
Advertisement
A few highlights are below, but head over to Amazon to see all 125 discounted options from Peak Velocity, Amazon Essentials, and, uh, Starter, which is apparently a pseudo-Amazon exclusive brand now?
---
The problem with keyboards is that the keys are all already assigned to something. Letters? Numbers? Lame. Razer's Orbweaver, on the other hand, includes 30 mechanical, RGB-backlit keys that can be whatever you want them to be. Ostensibly, it's designed for gamers who want to create complicated in-game macros to get a leg up on the competition, but it's also great for office workers, video editors, and photography professionals, who do a lot of highly specific, oft-repeated tasks in software.
The Orbweaver normally costs $110-$120, but today on Amazon, it's down to $100.
---
Anyone who ever travels overseas or would like to travel overseas should have a universal power adapter at the ready, and in 2019, you should probably go ahead and get one with USB-C.
Advertisement
This universal adapter from Xcentz includes a universal AC outlet that you can plug anything into (assuming it supports universal voltages, as most modern electronics do), plus three standard USB charging ports, and an 18W USB-C Power Delivery port for things like laptops and your Nintendo Switch.
18W isn't a particularly fast port, but it's all you need to charge laptops overnight, or your iPhone at full speed with a compatible cable. The adapter's currently priced at $30, but you can get it for $20 with code KINJA759.
---
---
I struggle to remember a time that a single-port USB charger generated as much buzz as Anker's PowerPort Atom PD 1. The tiny, 30W USB-C GaN charger was almost constantly sold out when it came out earlier this year, but now our readers can get it for the best price ever.
To get the charger for $24, you'll need to clip the $3 coupon on the product page, then add promo code KINJAPD3 at checkout. Not for nothing, that $24 final price is about half of what Apple chargers for a much larger charger with the exact same power output.
While you're at it, grab a USB-C to Lightning cable for $9. Plug it into this charger, and you can charge an iPhone from 0% to 50% in 30 minutes.
---
If, like me, you prefer to spend as much time as possible under a blanket at home, Gravel made a blanket that you can take with you anywhere.
The Layover Travel Blanket isn't the only compact, nylon blanket out there, but it does seem to be one of the most thoughtfully designed. It has a leg pocket to keep your feet extra warm (and hide them if you take your shoes off on a plane)! It has a built-in storage pocket for your phone and keys! It packs down into an included sack that's smaller than a pair of shoes! It weighs less than a pound! Plenty of people pack a travel pillow to stay comfortable on planes, trains, and busses, and Gravel's betting that they can convince a lot of travelers to bring a blanket too.
Advertisement
The Layover is the third Kickstarter project from Gravel, the folks behind my personal favorite toiletry kit, and has already blown through its funding goal. You can cozy up to the blanket for an earlybird price (currently $99) by preordering, or save more by preordering two. They snap together to form a larger blanket, after all.
---
Anker's smart light bulbs have long been a hit with our readers, and the new models are significantly smaller than the originals, while offering a redesigned Wi-Fi antenna for a more stable connection.
Advertisement
Of course, they still work with Alexa and Google Assistant, and you can control them from your phone without a hub. This model doesn't have any colors or a tunable color temperature, but it's on sale for an all-time low $12, and is a great way to augment a Philips Hue system in the rooms where you don't need tons of features.
---
From time to time, Anker offers gift bundles that offer multiple great products for an affordable price, and one of the best is even cheaper than usual today.
Advertisement
The Soundcore Life 2 gift set includes a set of Soundcore Life 2 over-ear noise canceling headphones, a PowerCore 5000 battery pack, a premium PowerLine+ microUSB charging cable, and a premium AUX cable for just $70 after clipping the $10 coupon.
For context, the headphones alone currently cost $60 (after clipping a $5 coupon), so you're basically getting the battery and the premium cables for $10, which is a bargain.
---
Battery packs are useless without cables, so one way to make sure you always have one is to just, uh, build the battery into the cable.
Advertisement
In addition to be being a fully-capable Lightning cable, the Portal Cord offers up a decently-sized, 1,800 mAh battery capable of charging an iPhone XS to about 70%. (USB-C and MicroUSB versions are also available, in addition to Lightning).
Of course, the Portal Cord isn't the first product to do this, but it looks like a real marriage between a cable and a battery pack. Unlike the discontinued Jackery Jewel and the Nomad Battery Cable which were ostensibly lipstick-sized battery packs with a cable running through, the Portal Cord splits its battery capacity between four humps. This design choice makes the cable a little bit more manageable and cord-like. (At first glance, I actually mistook it to be Apple's BeatsX headphones.)
Of course, the 1,800 mAh battery isn't likely to replace your dedicated power bank for extended trips away, but it'll definitely do well in a pinch.
Advertisement
And unlike a battery pack, it'll charge while you sync your phone with your computer or plug it into the wall. This means you'll never have to remember to charge it. (Like its competition, the cable prioritizes the charging of your smartphone before it begins charging the internal battery of the cable.)
If this sounds like something you'd like, you can pledge $55 on Kickstarter in your choice of black, white or gray. It's quite a bit more than a regular cable, or a regular battery pack, but for some, the convenience of an always-ready battery may very well be worth the cost.
---
At $8 per month for Prime members, Amazon Music Unlimited was already more affordable than Spotify Premium or Apple Music, but Amazon's sweetening the pot for new members by offering three months for FREE, for a limited time.
Advertisement
This deal is even available to non-Prime members, though it'll renew at $10 per month instead of $8. But either way, three months to stream the new Vampire Weekend on repeat for free? Yes please.
---
Our readers' favorite VPN recently raised prices for the first time ever, and the company's best-value (and Kinja Deals-exclusive) three-year plan is going away at the end of the week, so this is your last chance to subscribe at the best per-month price available.
Advertisement
Three-year plans aren't available to the general public at all, but if you click this link, you can get three years for $99, which works out to just $2.75 per month. That's only $9 more than it was cost to the price hike, and while shorter plan lengths are available, none come close to the per-month pricing of this three-year membership. For example, the publicly available two-year plan costs about $84, and a month-to-month plan will set you back $10 per month.
If you subscribe to the three-year plan today, you'll be able to continue to renew it at the same price for the life of your subscription, so this is a great chance to lock in a terrific deal.
---
Firstleaf is an online wine club that learns your preferences, offers tons of great wines from around the world, and most importantly, saves you money compared to buying from the store. It's a solid deal any time, but it's even better for our readers right now in preparation for Mother's Day.
Every new Firstleaf member gets an introductory delivery with six bottles of wine for just $40 with free shipping, and every box thereafter includes six bottles for $80, plus $10 shipping. But if you use this link when you sign up, you'll get FREE shipping on every box for your entire first year. That'll save you over $100 if you get a new box every month. At the very least, you should send Mom the trial box for less than $7 per bottle. I mean, why wouldn't you?
---